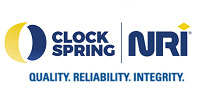 Industry-Leading Products for Construction and Repair
ClockSpring|NRI is a Houston-based manufacturer and provider of high-performance critical infrastructure construction and repair products and associated engineering support and training services. Clockspring|NRI solutions are used to construct, maintain, and rehabilitate pipelines, natural gas distribution lines, high-consequence industrial pipework, and civil structures. ClockSpring|NRI composite pipe repair systems are used in more than 75 countries and include industry-leading products such as Thermo-Wrap™ Inspectable, Clock Spring™, Syntho-Glass® XT, Acid-Shield™ and DiamondWrap® composite products. All ClockSpring|NRI products are easy to install, cost-effective to deploy, and durable for decades.
Representative products in the ClockSpring|NRI portfolio of industry-leading solutions: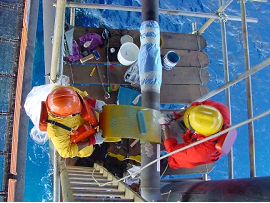 Clock Spring™ verified through the most comprehensive pipeline repair study ever commissioned, the Clock Spring™ composite repair sleeve and reinforcement system is uniquely designed for high-pressure transmission pipelines. Classified as a permanent repair, Clock Spring™ has been tested to 8,000 psi and is considered a permanent repair by regulators.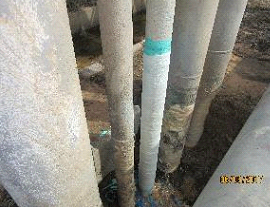 Syntho-Glass® XT is a unique pre-impregnated, bi-directional composite repair and reinforces lines with internal and external corrosion. The wet-applied pre-impregnated system ensures the proper fiber-to-resin content ratios that are essential for reliable performance on transmission and distribution pipelines, oil and gas risers, process piping, and girth welds, elbows, tees, and flanges on vessels and pipelines.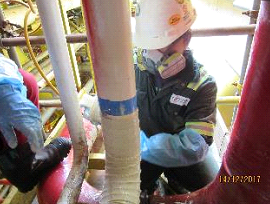 Acid-Shield™ is a custom engineered composite repair system with superior chemical compatibility. Designed for repairing corroded and damaged piping, this ASME PCC-2 4.1,4.2 compliant system uses chemically resistant, bi-directional fiberglass in conjunction with a proprietary epoxy system to deliver repairs suitable for piping with harsh chemical services, including 98% sulfuric acid.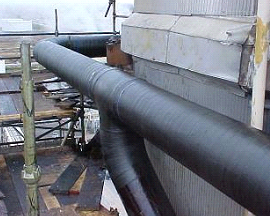 DiamondWrap® is an engineered, wet-applied repair system made of proprietary carbon fiber cloth applied with a two-part epoxy and a high-modulus filler material. It functions as a pressure-containing repair to seal leaks and as a reinforcing repair to restore original pipe strength in both the hoop and axial directions.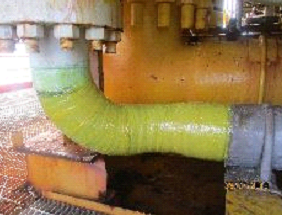 Thermo-Wrap™ Inspectable, this custom-engineered repair system uses a fiberglass, composite-reinforced coating with a thick, non-crimped, glass fiber architecture and resin that delivers higher strength with fewer layers. Thermo-Wrap™ Inspectable is ideal for corroded or damaged piping with harsh chemical service and elevated temperatures





Applicable in following 2 types of conditions:
1. Condition of Pre-impregnated Moisture Cured
Products like Syntho Glass® XT - Extreme Strength Fiberglass Composite System and its range and Viper Skin™ - Carbon Fibre Composite Reinforcement System including fillers and pipe support systems.
Various Features and Benefits:
None VOC
Environmental protection
Maintaining structural integrity
Installs in wet, rainy or submerged environment
Long-term life
Aesthetically pleasing
Without shut down
Difficult Geometrics
Water activated

2. Condition under High Temperature and Chemical Compatibility
Products like Thermo Wrap INSPECTABLE™ - Inspectable High Temperature Fiberglass Epoxy System and Thermo Wrap™ CF - High Temperature Carbon Fibre Epoxy System range and fillers as well.
Various Features and Benefits:
Inspectable with radiography
High temperature rating
scalable increases in ply thickness
High tensile strength and stiffness
Non-hazardous
High flash point
None VOC
Environmental protection
Maintaining structural integrity
Long-term life
Without shut down
Difficult Geometrics
Civil Products applicable here are:
The complete TITAN range of structural concreates including beams, columns, slabs, Saturant epoxies and other coatings
Also providing installation support and tools kits.
Various Features and Benefits of NRI Products
Inspectable with radiography
High temperature rating
scalable increases in ply thickness
High tensile strength and stiffness
Non-hazardous
High flash point
None VOC
Pre-Impregnated Moisture Cured
Environmental protection
Maintaining structural integrity
Installs in wet, rainy or submerged environment
Long-term life
Aesthetically pleasing
Without shut down
Difficult Geometrics
Water activated