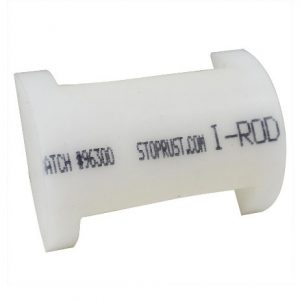 The I-Rod Clip was designed to eliminate crevice corrosion at saddle clamp supports, Grinnell clamps and pipe shoes, all of which tend to trap water.
The I-Rod Clip snaps into the inside diameter of the support, providing a low-profile standoff. This configuration allows ventilation and drainage that prevents water accumulation. An adhesive strip can be applied to the rear of the clip to help secure it during installation.
I-Rod Clips can be made from I-Rod, I-Rod HT or PEEK material, and therefore maintain the same properties. The clips can be manufactured to fit any support, provided we know the nominal pipe size and the thickness of the saddle or pipe shoes to be fitted.